August 28, 2018
Baby Diaper Soaker – Free Knitting Pattern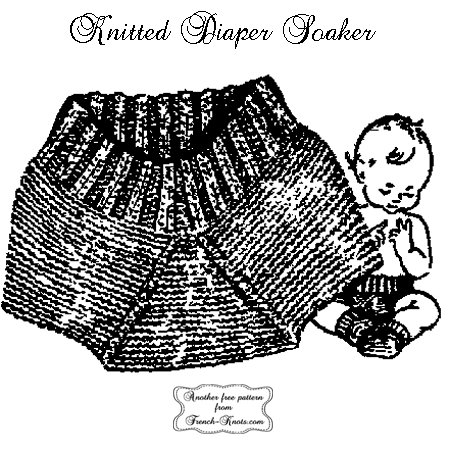 Here's a free pattern for a knitted diaper soaker to knit up in wool. Wool is absorbent and anti-bacterial and doesn't have to be washed constantly. Coat with lanolin and it's good to go!
Knitted Diaper Shaped Soaker
Gauge: 6 sts equal 1 inch – 11 rows equal 1 inch
This soaker is nice and roomy for the tiny baby and large enough to give an older, child extra protection if neces­sary. You will need about 3 ounces of 4-ply wool yarn, one pair each of standard knitting needles (US) numbers 3 and 5.
Soaker::
Begin at the waistband. cast on 88 sts.
Row 1: K 2, p 2 across row.
Row 2: P 2, k 2 across row.
Repeat rows 1 and 2 until ribbing measures 2 inches.
Then work in garter st (k each row) work measures 7 inches. Bind off 26 sts at beginning of next row, k across. Bind off 26 sts at beginning of this row, k remaining 36 sts. K 2 tog at beginning of each of the next 8 rows, then k across row. .K two rows even. This forms the fold of crotch.
* Work an inc (k .in front and back of first st), k across row, repeat from * 7 times.
Shaping Point: Row 1: K 2 tog, k across to last 2 sts, end with K 2 tog.
Row 2: K across row.
Repeat rows 1 and 2 until 1 st re­mains, break thread, leaving 9-inch end.
Sew ribbing together. Then bring point up and fit in place. Sew with careful sts on wrong side down to crotch.